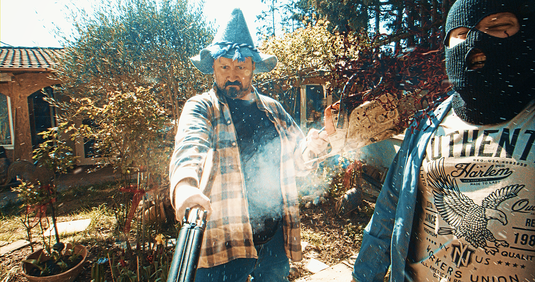 Heinrich, the grandson of Adolf Hitler wants to revive his "Opa" with the power of five artifacts, shattered around a village in South Germany.
But bad for the bad boys, the first house they want to take over is the house of Conrad, called Conrad the Bavarian.
And this son of a witch does the talking with an axe... especially when Nazis are around!
SERIES SYNOPSIS:
"Madman Heinrich, the leader of the terror group "Heil Five" is studying the occult to revive his grandfather Adolph Hitler using the "Book of the Dead" and his grandpapa's mustache. Alas, the first of the 5 required artifacts for said ritual are hidden below the property of pint abusing Conrad aka "The Bavarian" in the small town of Sasbach. And this bearded son-of-a-gun knows how to handle the scumbags of the world all too well – the old fashioned way: lock, slash and load! Revenge is a dish best served with BEER!"
INTRO:
"Conrad the Bavarian" is a neo-grindhouse, action, splatter, comedy series (aka splatcom) created by two brothers, aka the Huckbros! A kind of "Machete meets Inglorious Basterds on Planet Terror" developed from nerds for nerds who guzzled too many movies and games all of their lives. Conrad is an original episodic "overkill" grindhouse series shot in professional high-gloss but without ever losing the dirty "Drive-In cinema feel". VHS to Videogame inspirations exploited with elements of horror, action, splatter, comedy, kung-fu and all the genres we love.
FILMMAKERS:
We, Robin and Nicolas Huck, are independent filmmakers from Germany who have worked on various grindhouse, short film, teasers and special effects projects on YouTube before. Our completely abnormal weakness for all kinds of action, comedy and splatter films has seduced us since 1996 and led to many wild and professional video clips.
CAST:
Robin Huck (Heinrich, Clawfinger and Herr von Zitzewitz). Nicolas Huck (Conrad and Pig Man). 
Produced by Arrow in the Head founder John Fallon and Executive Produced by JoBlo.com founder Berge Garabedian.